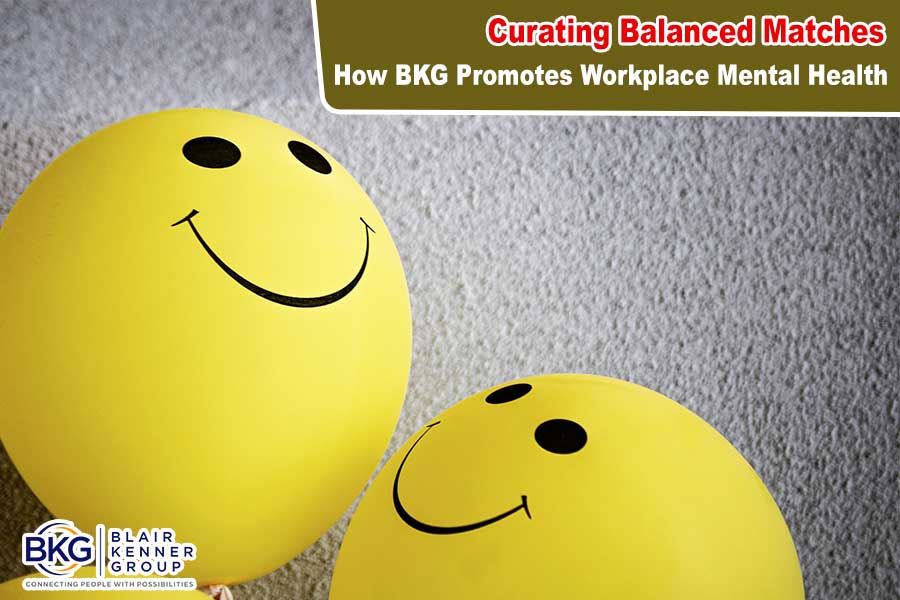 Now more than ever, it seems conversations around mental health are jumping into public eye. We are increasingly seeing the call to action for workplaces to promote balanced day to day practices that contribute to positive mental health and wellness for all employees. The integration of initiatives that inspire employee vitality have permeated every industry; worker's compensation, property and casualty, as well as insurance spaces are no exception!
Here at the Blair Kenner group, we have answered the call to action — we believe striking this balance begins during the employee recruitment journey. Our talent acquisition firm places client and candidate reciprocal wellbeing at the forefront of the talent sourcing process. BKG talent acquisition specialists utilize recruitment strategies that hold mutual benefit at the center of each staffing solution to encourage work-life alignment. We recognize the multiple facets of both employees and employers that need be met to achieve this synchronicity. Our talent acquisition specialists explore these 3 core realms while matching talent to career opportunities:
The Industry
BKG's talent acquisition specialists hold an elevated understanding of marketplace dynamics and trends. We hold connection to the ever-evolving industry as a core tenant of our recruiting approach. If there's a merger, acquisition, or consolidation happening…you bet it's on our radar! Attunement to industry trends allows our talent acquisition team to recruit in alignment with real-time, big-picture needs. Understanding the industry landscape facilitates our ability to curate staffing solutions equipped to transform along-side it.
Our Companies
Our lived industry experience supports us in keeping a "finger on the pulse" of the companies in need of new, likeminded individuals who will seamlessly integrate into the workplace. There isn't a role within the industry our insurance headhunters haven't served in, supervised, sold the product of, or hired for. Not only do we have the tools to locate ideal candidates in full symmetry with the needs of our hiring companies, but also understand the nuances of the trade. Our first-hand experience allows us to step into the shoes of our client companies and vividly picture their staffing needs! With over 20+ years in the insurance space, the depth of our relationships with key industry players is unparalleled. These tenured connections make us the most trusted recruiting agency in supporting employers with innovative and competitive staffing solutions.
Our Candidates
Our multi-step recruitment process facilitates an elevated understanding of each candidate. We take pride in hosting in-depth conversations that support our identification of fresh talent provided by passionate industry individuals. We are adept at locating candidates who find the industry intriguing, have new ideas to bring to the table, and can fill critical workplace gaps. Our talent acquisition specialists have a knack for marrying experienced companies with incoming talent ready to receive the knowledge and tools necessary to make a lasting impact. With an orientation of open-mindedness to unconventional candidates, we excel in locating talent in unexpected places.
So just how does special attention to these realms catalyze our ability to promote mental health and wellbeing in the workplace? When all aspects of this delta are singing in harmony, mutual vitality soars. Our comprehensive talent acquisition strategy accounts for each voice in the choir, and their respective workplace needs. When all needs are accounted for prior to the hire, candidates are matched with employment environments that support them in reaching their full potential. With employee placements empowered to put their talent towards making strides towards their potentiality, the goals of employers become in-reach. Employer-employee matches working in tandem with one another ultimately keeps the industry advancing towards growth.
Here at BKG, we recognize this reciprocal cycle is a beautiful exchange of empowerment that energizes organizational well-being and employee mental health. Who said recruiting couldn't go beyond a database search? We're here to put the humanity and personalization back into recruiting! Curating balanced candidate-client matches? Our specialty!