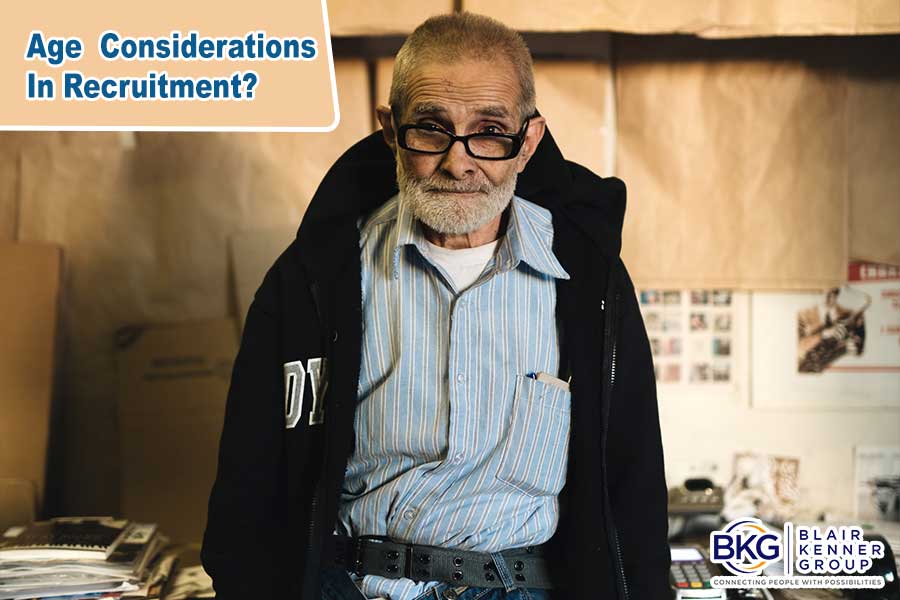 Boomers, Millennials, and Gen Z'ers,… oh my! It seems a vast percentage of news headlines and blog articles have commented about generational impact on today's workforce. When it comes to comprehensive recruitment and innovative staffing solutions, just what age group should recruiters be targeting? The talent acquisition specialists at the Blair Kenner Group (BKG) have found the answer! Hint, it's none of the above.
Connecting people with possibilities isn't a calculated equation aimed to target one age group with the promise of boosting the effectiveness of placements. It's a unique and abstract artform of curating client-candidate matches that promote reciprocal satisfaction and long-term success. BKG recruitment gurus know that crafting these matches made in heaven isn't about age, it's about mutual fitness.
Let's explore two sides of the trending generation argument…
"I've been in the industry for 25 years. With my lived experience, I am more valuable than some fresh out of college 20 something."
Time spent in the workforce is NOT an indicator of knowledge, skills, or ability. I'm not postulating that a candidate who has spent 25 years in the workforce would not have gained some knowledge along the way. However, it does not mean they have taken opportunities for growth alongside the ever-changing workforce demands.
On the other hand, many tenured industry professionals have embarked on both academic and skill-based development journeys to expand their repertoires. What makes this population essential to the workforce is, in fact, their lived experience! Have you ever spent time listening to someone of the generation before you speak of their experiences and thought… "wow, they've lived so much life I just haven't seen yet." The same sentiment applies here! Candidates with years of industry experience contribute invaluable insight, offer honed skillsets, and bring excitement to cultivating new growth! I'll let you in on a little secret…they make excellent mentors for those new to the industry, too.
"With a fresh education and no industry experience, I am the perfect mold-able candidate! You know what they say, you can't teach old dogs new tricks!"
My spaghetti dinner execution can attest to the fact not everything read in a book translates into the real world (hello crunchy noodles)! While learning about a desired career is instrumental in one's development, this is NOT the only way to learn! In fact, sometimes the rigidity of by-the-book practices stifle innovative practices.
There is something to be said about a fresh ball of clay, ready to be transformed into whatever sculpture fits workplace needs. Operationalizing the fresh knowledge base of the younger generation to fit industry initiatives offers an awesome recipe for success! Sometimes a fresh perspective offered by younger generations can catapult organizations towards new innovative solutions.
So, what's the BKG way?
Our expansive professional networks of both active and passive candidates provide access to a spectrum of individuals with varied tenure in the industry. We curate our matches through a two-step approach that creates symphonic client-candidate matches."
Cultivating an in-depth understanding of client needs
At the onset of the recruitment relationship journey, our talent acquisition specialists spend the time necessary to acquire a comprehensive understanding of staffing needs. Through this experience, we collaboratively curate an ideal candidate profile that guides the candidate sourcing process. These profiles consist of the desired level of knowledge, skills, and abilities our clients are seeking in their staffing solutions.
A multi-step candidate selection process
We utilize innovative technology, beyond the traditional database search, to source qualified candidates in alignment with client needs. Each candidate is considered, regardless of age, for client provided career opportunities. Our recruiters extensively interview each potential opportunity match before passing them along to our client for review. These interviews allow our headhunters to cultivate an elevated understanding of their professional abilities.
Here at BKG, we don't see age as a bad word. Rather, we see it as an invitation to learn more about what each candidate brings to the table!
Independent Medical Evaluation (IME) Providers Recruiter
Insurance Brokers & Agents Recruiters in US