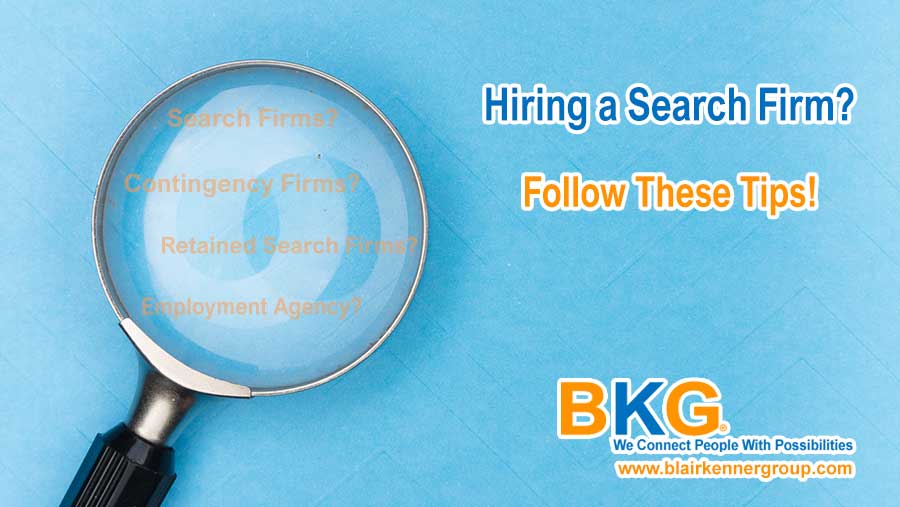 When it comes to staffing challenges, do you hire an employment agency or a search firm? First of all, know who you're dealing with. When it comes to talent acquisition search firms, there are generally two types: retained and contingent. Although their business models, recruiting processes and deliverables are different, there is a perception that contingency firms are cheaper and there are plenty of qualified candidates out there looking for new opportunities. Secondly, consider the nature of your search. Is it senior, technical or highly specialized? Let's review some definitions and pros and cons so you can make informed decisions.
Contingency Search Firms For Talent Acquisition
When you use a contingency firm for talent acquisition, it's all about candidate volume and speed, focusing on less-senior and or specialized hires. Talent acquisition recruiters are often required to interview a minimum number of candidates per week and the talent pool is often less diverse. Exclusivity is absent and internal recruiter competition rules the day. Candidates are interviewed and vetted quickly with minimum time spent with the client to understand issues of history and culture. Hires are usually only guaranteed for 90 days. The good news is that fees are usually in the 15% to 25% range of the candidate's base salary.
Retained Search Firms for Talent Acquisition
A retained firm is all about using proprietary methodologies to create a customized, exclusive search for a more technical, senior candidate. The process begins with clear marching orders from the client regarding candidate expertise and experience. Many times candidate searches go beyond the firm's available database into passive-candidate territory, reaching out to non-active job-seekers. Fees are higher with retained firms, usually around 30% of the candidate's first-year total compensation paid out on specific dates with a one-year guarantee.
What This Means For the Candidate
If you are a job-seeker and a talent acquisition recruiter approaches you, ask them how they got the assignment? Ask specifically if they are a retained or contingent recruiter. A retained recruiter is more likely to coach you, provide information regarding history and culture and lead you through the interview and offer process. A contingent recruiter will drive the process to conclusion quicker, one way or the other. Styles will certainly be varied, but remember, both recruiters play differently depending on the employer and the search requirements.
What This Means For The Employer in Talent Acquisition
More senior, specialized placements will usually require a retained firm due to the complexity of the job position and the required expertise of the search firm. Be prepared to work exclusively with the firm with frequent communication. For talent acquisition, retained firms are more consultative and take the time to understand client requirements, but be prepared to pay an upfront fee to start the process.
Why References Are More Important Than Ever For Recruitment in 2021
Conclusion
Understand the differences between the two types of firms and consider the complexity of your job position. You don't always need a temp agency or staffing firm. The fees you pay to a retained talent acquisition firm will result in a more involved, consultative relationship with a longer employee guarantee. BKG is a retained executive search firm with proprietary technology and processes that enable our clients to achieve competitive advantages through exceptional talent.
Dealing With a Desperate Candidate In An Interview? Do This!