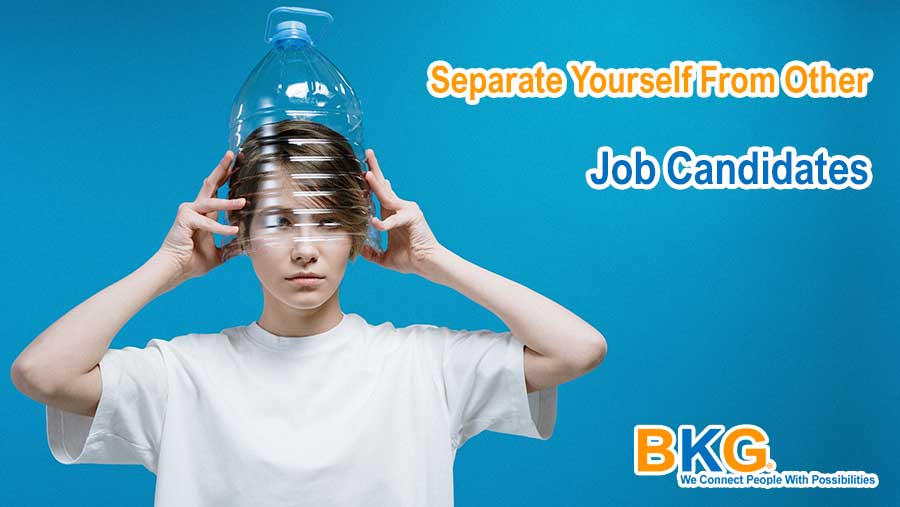 When you're looking for a new job, it's not always enough to prove that you're qualified for the role. While you may understand how your experience aligns with the new job description, hiring managers and staffing agencies are faced with dozens of candidates who may seem to have similar experience and qualifications. It's up to you to figure out how to stand out from the crowd and excel above your competition.
Thankfully, we've done some of the work for you by putting together this list of six ways to separate yourself from other candidates. For best results, try to accomplish all six next time you're looking for a job.
Create Long-Term Relationships
If you have a dream role with a company you'd really like to work for, start building a relationship with the company long before you're ready for a job. Connect with employees with similar titles on LinkedIn, conduct informational interviews to learn more about the culture, and start building skills that you might be lacking if you applied today. Then, when the right role becomes available, you'll be a stronger candidate—and you might have contacts who can refer you internally.
Carefully Follow Application Directions
Following directions may not seem like a great way to stand out, but you'd be surprised at how many applicants ignore specific instructions within the application requirements. Following the instructions to a tee demonstrates attention to detail, shows pride in your work, and immediately separates you from candidates that fall short. If you're asked for a resume in PDF format, make sure to attach a PDF. If you're asked for a 100-word summary of your experience, don't go over the word limit. When in doubt, the best way to start strong is to do exactly what you're told.
Share Links to Your Portfolio Website or LinkedIn Profile
Creating a portfolio website or optimizing your LinkedIn profile are both useful ways to share more information than what you can fit in a resume or cover letter. Both are great places to share new projects, showcase hobbies or side hustles, and explain a bit more about who you are and what you care about. Linking to these sites in your application serves a dual purpose, giving hiring managers a taste of your personality and showing off your best work. Many applications will have a designated space to link these items, but if not, you can share the info in your cover letter.
Optimize Your Resume for the ATS
The ATS (or applicant tracking system) can be a job seeker's best friend or worst enemy. If you're not familiar, the ATS is the software that processes resumes and separates the best candidates before a recruiter or hiring manager ever lays eyes on them. The software looks for keywords that align with the job description, so it's in your best interest to make sure your resume contains the responsibilities and qualifications that the role requires. While you don't want to stuff your resume with keywords just for the sake of the ATS, thoughtfully including a few of the most important ones is a helpful strategy to pass the ATS review.
Do Your Research
Doing your research is always a crucial step of the application process, especially if you're invited to interview. As you research the company, make sure you have a good answer as to why you're interested in this particular role at this particular organization. Hiring managers can tell when you're just after a paycheck, so give them a reason to believe that their role means more to you than just a source of income.
Send a Thank-You Note
Sending a thank-you note after an interview earns a mention on virtually every list about how to get hired, and for good reason. It's quick and painless on your end, but it demonstrates that you care about the role and can follow up in a timely manner. Best practice is to send an email thank-you note within 24 hours of the interview—bonus points if that's followed by a handwritten version in the mail. If you interviewed with multiple stakeholders, make sure to send a thank-you note to each of them.
Conclusion
Next time you're applying for a new position, whether it's an insurance job or a role in any other industry, apply these tips to give yourself the best chances of success. We'd love to hear from you if these methods lead to a new role—we're confident they will.