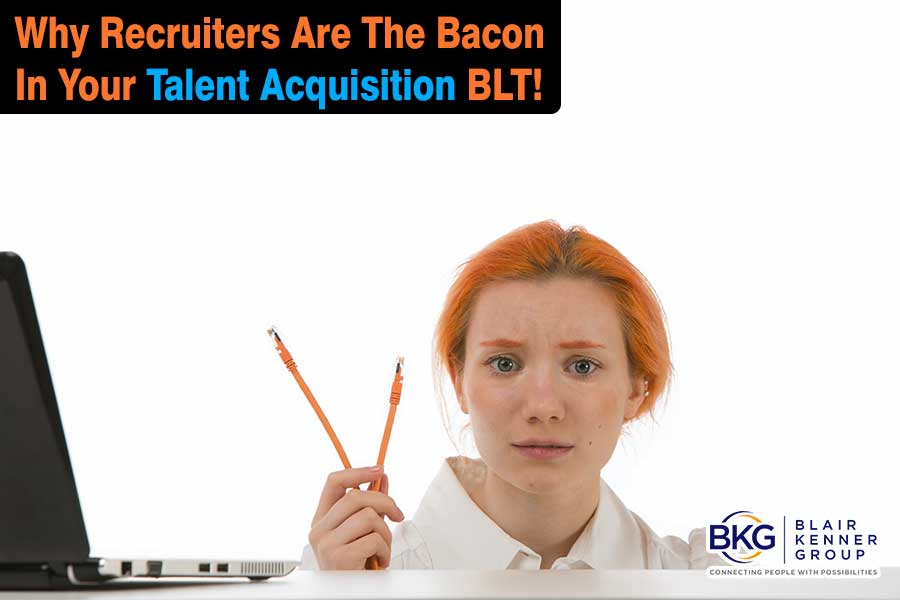 At the Blair Kenner Group (BKG) we refer to our income as 'Chunky Money' and celebrate the monetary winfalls that come with a job well done. For most clients, our service fee is viewed as an investment in their human resources. For those who do not understand what we do, invoices can be a deterrent. Over the course of this blog series, we'll discuss the value associated with what good recruiters do so those invoices are digested a little easier. We'll also talk about the natural conflict (and harmony) between employers and recruiters and what is needed to remove the friction.
With the evolution of internet-based job boards and the corporate migration to internal talent acquisition teams, the value of the external recruiter has been unfairly overshadowed, even diminished. However, even with job boards and internal TA, we at BKG still get the call for help due to our reputation for filling tough assignments. Also, some hiring managers feel that the more recruiters you have working on a job, the faster it will go. Not really, and the hiring manager is bombarded with the resumes of inadequate candidates. The prudent company commits to a single recruiting partner who will move mountains to find the best candidate. Here's how we at BKG succeed in today's challenging labor market.
Industry Expertise
I'm proud to say that we don't have recruiters on our team. We're a band of professionals who have extensive industry (Property & Casualty & Healthcare insurance) experience and leadership backgrounds. I like to say, 'we get paid to socialize with our friends.' We know the companies, jobs and the people who make up the niche spaces associated with cost control in the claims process. The degrees of separation are small in these seemingly huge industries–sorry Kevin Bacon. Many of us have worked at the top companies in the industry. We know their leadership, cultures and Employer Brands (more on that later). With good authority we can represent our clients to the candidate world ensuring a lasting employer/employee relationship.
Candidate Connections
About 90% of the candidates we place are passive candidates, meaning they were employed and possibly not looking to make a change when we initially contacted them. We're great storytellers not only representing the job at hand, but the company behind the opportunity. I cannot tell you how many times we get a candidate referral from a past candidate or someone in our professional networks. We're also very good at Noodling for candidates–Google 'hand fishing.' We're neck deep in the muddy waters of the candidate pool, reaching our hands into every watery hole searching for that big fish. Hand fishing for candidates is much more effective than casting a bobber on a job board and waiting for a bite.
Employer Brand Analysis
We view talent acquisition as a strategic issue for our clients. Reaching company growth goals without the right mix of human talent means missed opportunities. At BKG, we have a proprietary process for evaluating a client's Employer Brand. The value of this process has many layers: clients better understand their corporate reputation, candidates better understand the culture, values and Ethos of the employer they are considering and it's critical for us at BKG when we go into storytelling mode with candidates. Companies that ignore their Employer Brand make it more of a challenge to sell their opportunity–again, 90% of the candidates we place were working someplace else when we first connected.
Bench Strength (HR)
We save time. We stretch HR resources. We are the first (or second) interview and we streamline the hiring process for HR professionals. I don't know of one HR person who isn't spinning a dozen plates at one time and doesn't have the time (or maybe the expertise) to cruise for candidates. The candidates we submit have been vetted and recommended, therefore removing the hassle and stress associated with building talented teams.
Our Work Is Guaranteed
From time-to-time, we encounter a hiring manager who is under the impression that there is a never ending pool of candidates to draw from, or that we will find the perfect candidate. In both cases, we use our industry expertise and experience to set realistic expectations while offering creativity in the candidate campaign process. We're not afraid to stick our neck out for candidates we feel are uniquely qualified.
Again, over the course of this blog series, we'll discuss the value associated with what good recruiters do so ROI might be recognized…maybe for the first time.