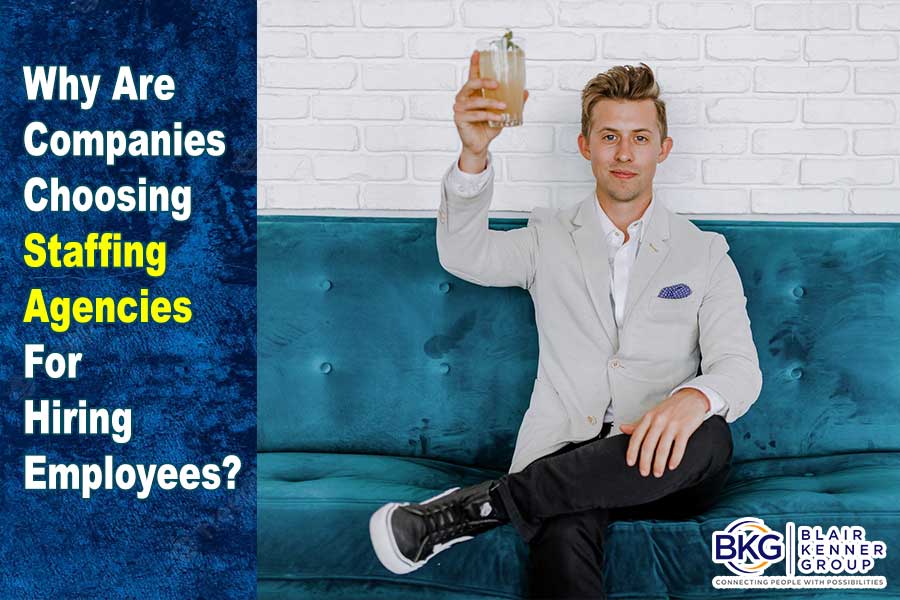 It seems each time we flip on the television or search the internet we're exposed to advertisements for staffing agencies. From LinkedIn posts to television commercials and everything in between, the call for businesses to entrust staffing agencies with hiring their employees is apparent. Companies are increasingly answering this call and eliciting support from tenured talent acquisition specialists to manage their staffing goals.

As a business owner, it's reasonable to wonder, why should my company utilize a staffing agency? The answer is multi-faceted, but simple – they're experts. Just as businesses are experts in the services they provide, staffing agencies are experts in curating innovative staffing solutions. Leaning on experts in the talent sourcing space ensures businesses experiencing talent gaps are matched with qualified, effective candidates.

Below we dive deeper into the multiple facets at play when exploring why people use employment agencies in the US for their talent acquisition needs.
Difficulty Sourcing Candidates Internally or No Established Internal Hiring Process

One of the most prevalent reasons businesses shift their hiring processes to an external staffing agency are facing difficulties doing so internally. Whether it be lack of experience navigating the talent acquisition process or an influx of unqualified candidates, businesses commonly feel stuck in their hiring initiatives. Outsourcing talent acquisition to industry experts supports the business in breaking free from the stress of staffing qualms and back to full focus on day-to-day initiatives.
In some cases, companies shift to talent acquisition firms for hiring employees because they simply don't have a process established. Businesses outsource the processes to trusted, industry partnered employment agencies to ensure staffing solutions meet company demands.
Reaching Talent in Unpredictable Places

Employment agencies in the US are known for their vast industry expansive professional networks composed of both actively looking and passive candidates. Companies are increasingly calling upon talent acquisition specialists to tap into their valuable industry connections to source candidates from broad talent pools.
Many businesses have become keen on talent acquisition firms due to their broad range of expertise. Entrusting the candidate sourcing and placement processes with these firms allows businesses to hire qualified candidates for a range of jobs, with varying forms of expertise, without the pressure on internal staff members having to possess the knowledge themselves.
Streaming the Process & Hiring Talent, Quickly!

Companies are becoming increasingly aware of the burden hiring can be; the process is complicated and time consuming. Employment agencies take on the brunt of the hiring process, from sourcing to interviewing. Outsourcing these talent acquisition streamlines the hiring process for companies as they are only presented with candidates already deemed by experts as qualified.
Perhaps the most appealing aspect of outsourcing to staffing agencies is the rate at which staffing solutions are provided. Employment agencies utilize their expansive networks in conjunction with talent sourcing technology that hastens the entire process. Businesses are keying into the fact this means less time with talent gaps and a quicker route to company-wide growth.
Protecting the In-House Recruiter's Time & Resources

In today's job market it is all too commonplace to see internal hiring teams faced with a multitude of positions to fill. Many businesses understand it's unrealistic for their internal teams to keep up with the demands of talent sourcing, vetting, interviewing, and onboarding. We see companies shifting talent acquisition processes to employment agencies in the US to protect their in-house team's time and resources.
With additional candidate sourcing support from external talent acquisition specialists, in-house teams are free to return to their daily function and continue supporting company needs. Bonus – doing so supports existing internal teams in preventing burnout and promotes employee retention!

Closing Thoughts

The Blair Kenner Group (BKG) understands why companies are increasingly trusting employment agencies in the US for their staffing needs. BKG's talent acquisition team utilizes proprietary technology in conjunction with their vast professional networks to provide client-tailored staffing solutions quickly and effectively.
To learn more about how BKG can support your company with its unique hiring needs, contact us! Let's have a conversation.