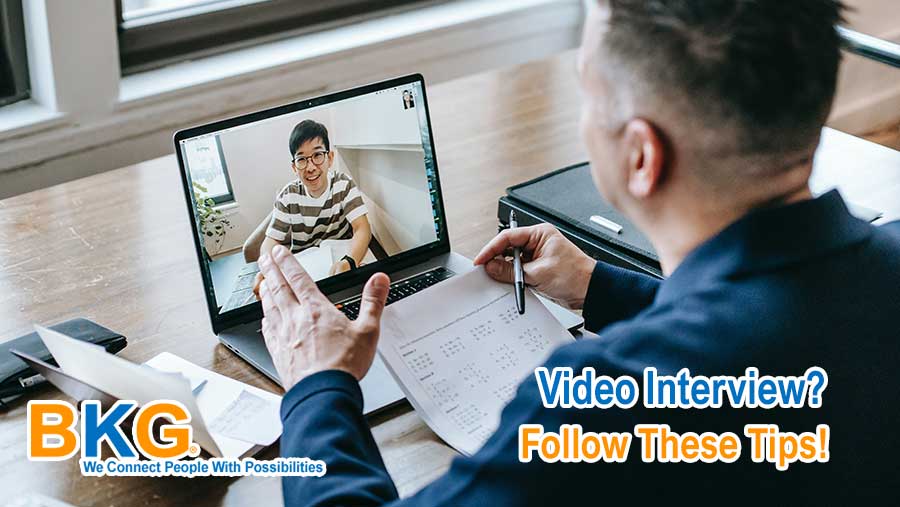 While your resume is your ticket to an interview, it's the successful interview that gets you one step closer to your dream job. Times have changed and hiring managers are using today's technology to save time and expense in the hiring process. Knowing how to prepare and what to do in a video interview is a little different from a traditional interview. Follow these tips so your knowledge and confidence shines through!
Know The Video Platform
These days there are many different video platforms like Zoom, Google Meet and Skype, so know in advance which tool you will be using. Get to know the features of the platform and do a couple of practice runs. Make sure your internet connection is strong enough for video conferencing and that your camera and microphone work on your computer.
Pick The Right Place For Your Video Interview
Find someplace that is quiet without distractions and ensure that your background is proper. You'll want to be free from outside noise coming from traffic, kids or pets. Nobody likes seeing your messy room, so if you can't find a nice plain wall as your background, choose an uncluttered background and use the 'blur background' feature found on most video platforms. Your confidence will come through if you feel comfortable with your surroundings.
Your 'On-Air' Presence
Dress appropriately and choose a suit you would wear to an in-person interview. Take care with your hairstyle and grooming. Also, brush your teeth! If you have piercings, minimize them. Spit out the gum! It is OK to have a glass of water with you. Make sure you look into the camera, smile and make eye contact. Watch the tone of your voice and speak in a conversational tone. Take your time speaking and pause to think before answering questions.
Get Yourself Prepared For Video Interview
It's important to put just as much preparation into a video interview as if you were interviewing in person. You should thoroughly research the company, along with its industry, products, and achievements, so you're prepared to discuss them during your interview.
Furthermore, hiring managers and recruiters typically have a presence on LinkedIn, and a quick Google search can shed some light on who you're meeting with for talking points. It's also a good idea to prepare questions to ask of the interviewer. Arrive 10 minutes early to your interview and test your technology. This will ensure you enter the interview calm and relaxed.
Watch Your Body Language During Video Interview
Your body language in a video interview says a lot about who you are as a person and potential employee. Present a positive image by sitting up straight with good posture. Place both feet on the ground, and avoid slouching or holding your head up with your hand. Remember, placing your hand on or by your face is a sign of defense, meaning you are uncomfortable. Looking down means you don't know the answer to the question. Always try to keep your hands in your lap to avoid distracting gesturing or fiddling.
Conclusion
Whether it's your first video interview or one of many, following these tips can help you be prepared, relaxed and confident. Video interviews are becoming a popular method among companies that want to evaluate candidates remotely. There are benefits for you, as a candidate, too. You get to interview in familiar, comfortable surroundings, you don't have to travel anywhere and you get the chance to interview at, and work for, a company that may be across the globe. By knowing what to expect ahead of time, you can help ensure that you're fully prepared and able to make the best impression possible.
Read: How To Interview