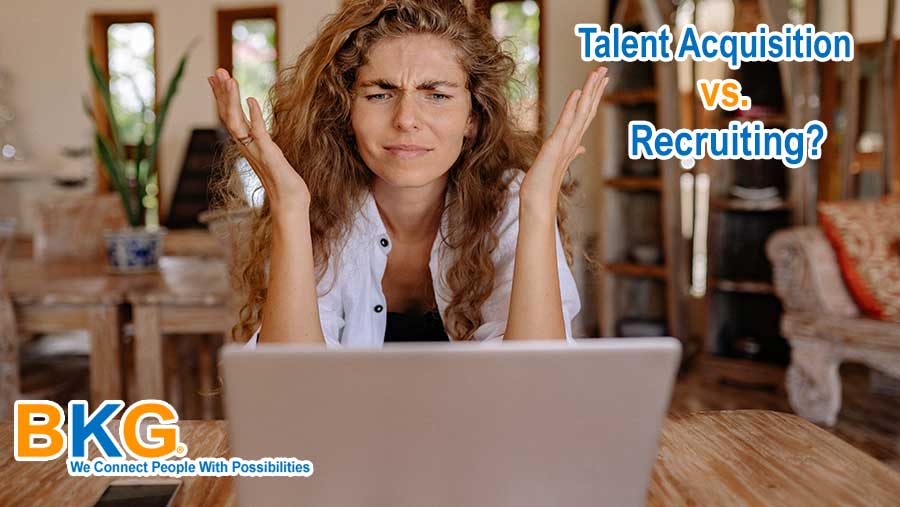 The labels talent acquisition and recruitment are often confused as meaning the same thing, but there are differences depending on your industry and company. Think of talent acquisition as long-term and recruitment comparable to the short-term; planning versus quick fixes. Both approaches may be used depending on the circumstances, but one tends to be strategic in nature and the other, tactical. Talent acquisition is the process of strategically looking for specialists, leaders, future executives, or other qualified professionals for a specific position within the company. Recruiting may be viewed as reactive, meaning that a position recently opened up and it must be filled. This article is a quick lesson in the two approaches and when it is appropriate to use them.
Talent Acquisition is Strategic & Proactive
At its core, talent acquisition is strategic. Talent acquisition is all about actively searching for the most qualified candidate to hire for a specific position. This strategy is common among niche industries such as healthcare, medical, technology, and legal. Its visionary objective is to hire right the first time, nurture talent, and provide resources for individuals to grow with the company for a long time. Talent acquisition includes other aspects of a company such as culture and most notably, the employer brand. Unlike a company's user brand, which advertises a company to the public, an employer brand demonstrates how a company treats its employees and stresses long-term employment and relationships. It also encompasses long-term planning, such as succession, to ensure that roles are not going unfilled if someone takes another position in or outside of the company.
See What We Do!
Recruiting is Tactical & Reactive
Recruitment is the process by which you look to fill vacant positions quickly and without much regard for the candidate's particular specialties. Recruiting may be seen as reactive, meaning that a position recently opened up and it must be filled. You don't begin the recruiting process until a need arises, usually due to someone leaving an important role or the discovery of a new skill that's necessary for continued growth and success. This can mean that the candidate process is quick and dirty, leading to fewer qualified candidates. Sometimes these structures don't line up and can create situations where bad hiring decisions are made, which can restart the cycle. Recruitment has long been considered the norm for organizations, but reactionary hiring can demonstrate a lack of foresight into the future success of your company.
Why I Don't Work As A Talent Acquisition Professional
Know The Subtle Differences Between Talent Acquisition And Recruiting
Companies must ask themselves which positions will be difficult to fill when a vacancy comes up. Niche markets, technology skills, highly specific experience, and leadership roles call for a thoughtful, long-term approach to talent acquisition. Recruitment is reactive while talent acquisition is proactive. That means each of these strategies will have a different place in your organization. As a reaction to turnover, recruitment will always have a place in employment but talent acquisition could make high levels of turnover a thing of the past. Processes starting at the core of your business, from the ground up, will create an employer brand and company culture that can attract top talent and keep them engaged to grow with you. But knowing when to shift gears, and how to make talent acquisition the default in your company will start with having the right tools at your disposal.
Conclusion
Talent acquisition is becoming increasingly more popular, and usually requires some outside help to make the position known to potential candidates. As niche industries continue to grow and populate as preferred career paths, hiring managers within are simultaneously scouting out candidates with the best talent, who are most qualified, and who will both enhance and benefit from working for the company. Define who you're looking to hire and for which positions, and either recruit or acquire talent accordingly. The Blair Kenner Group is an executive-level talent acquisition and staffing agency with extensive expertise in the property & casualty insurance, insurance jobs, cost-containment space serving insurance carriers, claim-payers, pharmacy benefit, and IT companies that support cost mitigation in the claims process. We specialize in C-level, IT, operations, sales & account management. For more information, email info@blairkennergroup.com.