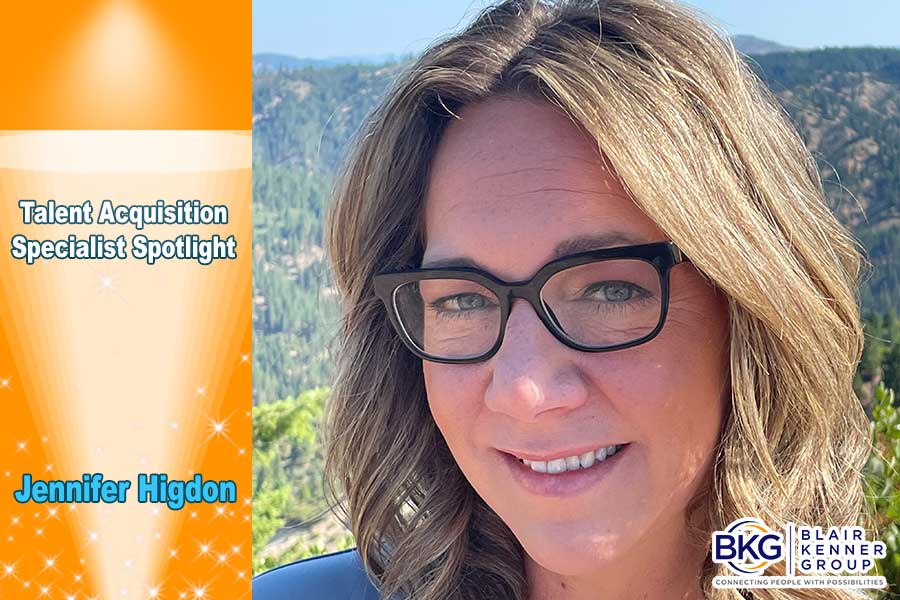 The Talent Acquisition Specialist Spotlight Series serves to highlight the Blair Kenner Group team. Each member of the BKG brings critical industry knowledge and expertise to their unique talent acquisition approaches. Through this series we shine the spotlight on one of our amazing experts and learn more about their experience at BKG!
Let's kick off the spotlight series Q&A style with BKG partner, Jennifer Higdon!
Jennifer is located in Boise, ID and has over 20 years of property & casualty insurance leadership experience which includes C-suite and corporate consulting. Her areas of expertise include executive leadership, sales strategy and execution, excellence in relationship management, product management, brand development and strategic marketing design and professional agility. Jennifer specializes in C-suite, sales and account management, and operations in the workers' compensation cost-containment space. She also helped to establish a non-profit foundation, focused on mental health services for injured and/or ill employees and their family members/caregivers.
Q: Why did you choose to join the BKG team?
A: During my career, I've been approached by and have utilized different "recruiting firms" to hire for key roles and positions. BKG's approach is different in that each member of the team has either served in the role they are hiring for or have hired or led the position we've been asked to fill. Additional reasons for joining BKG are the leadership team, the opportunity to help others find their purpose, and contributing to a bigger picture in an industry that I've been a part of my entire career.
Q: How long have you been with BKG?
A: Almost 2 years.
Q: How long have you been in the industry?
A: I have over 20 years of insurance industry experience and have worked both for and with companies that cover nearly every sector of the insurance space across all LOBs.
Q: What would you do for your career if you weren't working as a talent acquisition specialist?
A: Private Chef
Q: What advice do you have for people just entering the industry?
A: Congratulations on entering a dynamic industry filled with thought-leaders, entrepreneurs and people who want to make a difference in the lives of others. You can look forward to rewarding and challenging career opportunities!
These really apply to all industries, but I find these to be my top 10 lessons:
Find a mentor
Access your peers, no matter the topic
Network with industry professionals, at ALL levels
Attend conferences
Bring fresh ideas & perspectives to a well-established industry
The industry can move slower than you might expect, but also with lightning speed with the right innovators and thinkers
Self-study & be inquisitive
Understand that the insurance industry is one of service and care
Listen, listen, listen
Be a continuous learner
Q: What sets BKG apart from other talent acquisition firms?
A: Industry expertise and personal connections. Our specialists are out in the marketplace and do not rely on algorithms or search terms. While we leverage many standard recruiting tools, our specialists know how to navigate the industry quickly and efficiently to find the best talent for the opportunity.
Q: What do you love about your role?
A: Helping organizations find the right talent to help achieve and realize goals. In addition, helping people find the right organization for their growth trajectory and professional goals. Bringing my industry expertise and experience in recruiting and managing talent, allows me to connect with employers and candidates on a different level for authentic conversations and honest assessments about the best fit for the role and the organization.
Q: What do you find the most challenging about your role?
A: Talent firms like BKG work with organizations that have many moving parts and multiple stakeholders. Working with candidates who are worried about taking a risk or making moves that impact their careers and families, is not something I take lightly. These are big decisions, so I try to help mitigate concerns on all sides, by being supportive and honest about where all are in the decision making process. While these can be viewed as challenges, I find them to be opportunities to align people and organizations for possibilities.
Q: If you could choose one superpower, what would you pick?
A: Mind Reading
Q: Tell me about your approach to ensure you're successful in your role.
A: Honesty and authenticity. Many people look at win-win as a core philosophy. Most would agree win-lose is not pleasant. I like win-win-win! This includes the win for me, knowing that I've helped an organization and a person find a match that will make them both successful.
Q: What TV show are you watching right now?
A: We just finished InkMaster, Season 14… Waiting on Yellowstone!
Q: If you could only shop at one grocery store for the rest of your life, which would it be?
A: Trader Joes…hands down!
Q: Is a burger considered a sandwich?
A: Absolutely not!
Q: What do you do in your free time?
A: I'm happy to have alignment between personal and professional goals.I spend time with my family and 3 dogs. My husband and I enjoy exploring the Boise Mountains where we live, cooking, reading, and traveling. We also spend a lot of time visiting our 3 adult children.
Q: Before working at BKG, what is the most interesting or unusual job you've ever had?
A: I worked as a hostess/server for a comedy club in Northern California, and was able to meet many famous comedians! Yes, the jokes did get old… Laughing never does though!
Keep the conversation going with Jennifer!
(E) jdhigdon@blairkennergroup.com
(M) (916) 284-7797